[et_pb_section bb_built="1″][et_pb_row][et_pb_column type="4_4″][et_pb_text _builder_version="3.10.1″]
How To Reach The Top Of Your Summit
by Kevin Kelly
"The summit is for the ego. The journey is for the soul."
Jeff Glasbrenner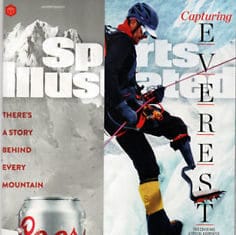 Tell Jeff Glasbrenner that it can't be done. Go ahead. Tell him it's impossible. I dare you. Because when and if you do, he will stare right back at you with his piercing greenish-brown eyes and without blinking say, "I will prove you wrong." I know because I've seen it firsthand and over the years I've reported on some of the insane accomplishments he's done that leave most people shaking their head in disbelief. Some might call him a freak of nature, a beast… even a badass. He's all those things and more. But to me, he's an inspiration, a role model, a mentor and a class act. He also has what I believe many of us lack… and desperately want. A positive mindset!
"It's all about the attitude, always being positive. Anything in life can go either way for you. You can view it positively or negatively and whatever has come my way, I've always found the positive in that," said Glasbrenner. Finding the positive in any situation comes easy for this 44-year-old… including a farming accident that nearly cost him his life.
It was a crisp early morning in July of 1980. Glasbrenner and his father were busy cutting hay on the family farm in Boscobel, Wisconsin when something jammed the blade of the tractor. His Dad cut the power immediately and told his 8-year-old son to hop down and remove the obstacle. So he did what his father asked. But before he got safely away, his Dad fired the engine back up and the rotating razor sharp blades caught his right pant leg. The next thing he remembers he was lying in a field of blood. "Ten feet to my right, I saw my shoe with my foot still in it," says Glasbrenner.
He barely made it to the hospital alive. In fact, his heart stopped twice. He stayed in the hospital for 47 days and underwent 14 different surgeries. When he was finally allowed to come home, the doctors handed him a note. "They handed me a sheet of paper that had a whole lot of limitations placed on it. At the top of that was sports," he told TIME Magazine. "They confirmed my worst fears. It was a hard pill to swallow. Sadly, I believed all those limits."
School didn't help matters either. Glasbrenner was constantly being bullied and teased. "The biggest thing I remember is this one kid in my class said, 'I'm glad I'm not him.' That was really hard to hear." Others would make fun of him because of the way he walked. All Jeff wanted was to fit in and be like everyone else. But his prosthetic made that nearly impossible. Four years after the accident, his Dad finally had enough of his son being teased and the words he shared with his son back then changed his entire life… and his mindset. "He said you can either choose to be pitiful or you can choose to be powerful. And so from that day forward was kind of a big transformation in my life where I said, you know what, I'm going to be powerful. I don't need to be like everyone else. I don't need to fit in. I can go my own path." Let's be honest. Most of us would call the accident a tragedy. Not Jeff. He calls it his greatest opportunity. Instead of just accepting what happened to him, he CHOSE to embrace it. He CHOSE to find the positive in it. And instead of sitting on the sidelines the rest of his life, he CHOSE to live life to its fullest, each and every day. And that's exactly what he's been doing ever since.
Need proof? No problem.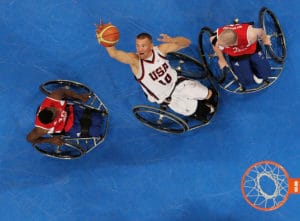 In 1992, while attending the University of Wisconsin-Whitewater, he was invited to play wheelchair basketball. He figured why not and immediately fell in love. He went on to become a three-time Paralympian and a two-time World Champion. And to this day, he holds a National Championship scoring record with 63 points and 27 rebounds in one game. He also played professionally in Italy for two years.
In 2005, he was watching the Ironman World Championship in Kona, Hawaii. It's the Super Bowl of triathlons. A 2.4 mile swim, followed by a 112 mile bike ride and then a 26.2 mile run. Piece of cake right. Jeff looked the TV and said, "I can do that." Keep in mind, he had barely run or swim since he was 8-years-old. So he started training and did exactly what he said he was going to do. So far, he's completed 24 Ironman races, including the World Championship, the one he saw on TV while sitting on his couch.
In 2010, to celebrate the 30th anniversary of when he lost his leg, he did 8 Ironman races in 8 months. Most triathletes only do one or two in an entire year.
In 2013, he became the first physically challenged athlete to race and finish the Norseman Xtreme triathlon in Norway, which is considered the most difficult triathlon in the world.
In 2014, he moved to Colorado and discovered another passion of his. Mountain climbing. So, in January of 2015, he decided to climb Aconcagua (22,841 ft) in Argentina… one of the seven summits. It didn't take him long to figure out what he wanted to do next. On May 18th, 2016, Glasbrenner became the first American amputee to reach the summit of Mount Everest. "I'm a competitive, type-A kind of driven guy. So if I do something, I'm going to do it at the highest level."
So how does he do it? How does he convince his mind, body and soul that he can do all these incredible things… and survive? Here's how Jeff breaks it down: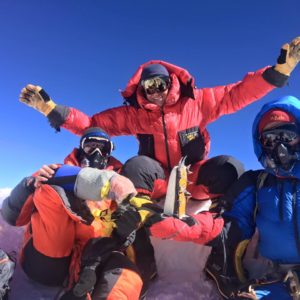 SET A GOAL:
"That's step one. Most of the time, big goals require a lot of preparation. For me, that means intense physical and mental training. Preparation has been a big part of my life for many years, and over time, I've truly internalized its value and importance. To quote Abraham Lincoln: 'Give me six hours to chop down a tree and I will spend the first four sharpening the axe.' Before I begin training, I consider all of the tools that I'll need to achieve a particular goal. From there, I can take action to obtain each one. I believe the most important tool I need (in any situation) is a positive state of mind
VISUALIZE IT:
Start with a visual. You have to see yourself achieving your goal to even begin preparing for it. For Everest, I visualized myself at the summit and I imagined the journey to get there. But I didn't just picture to good times. I thought about the obstacles I'd face and saw myself overcoming them. Most goals require a deep inner trust to get out of your comfort zone and begin the journey toward your summit. If it was easy, everyone would do it.
MAKE IT REAL:
Most of the time, the most difficult step is making the decision to reach your goal. After that, all you need is training or a preparation plan. Determine the steps you'll need to be successful, and your plan will keep you on track. For me, training must be ongoing. I need to wake up every morning and want it.
LOSE THE BAGGAGE:
One pound of equipment at sea-level feels like ten pounds at the top of Everest. As you journey to your summit, think about what you're brining with you. Are you carrying a lot of baggage? Will that hold you back? If you can let go of that "baggage" – negativity, uncertainty or fear… you won't feel restrained as you move higher and higher.
ENJOY THE RIDE:
Preparation gives you the ability to actually enjoy the time you'll spend on execution. At this point and time, I can almost touch my goal. With less than a couple of months before I begin the climb, I feel confident. I know I've done everything I can to prep my mind and body and it's almost time to reap the rewards of all that hard work.
"Glasbrenner's adventures are far from over. His next goal is to complete the Explorers Grand Slam, which includes reaching the highest peak in each continent and also getting to both the North and South Poles. "I'm exactly half-way done with that journey. I still have the North Pole and four other summits. The next journey takes me to Australia and climb Mount Kosciuszko (7,310 feet about sea level). It's the easiest of the 7 summits so my son and two sisters are going to come with me. I think thats truly what this life journey is all about. It's not just about making the summit, but its the people you bring with you. And the people you meet along the way. The summit is for the ego, but the journey is for the soul.
[/et_pb_text][/et_pb_column][/et_pb_row][/et_pb_section]