[et_pb_section bb_built="1″][et_pb_row][et_pb_column type="4_4″][et_pb_text _builder_version="3.2″ background_layout="light" text_font="Abel||||||||" text_font_size="20px" header_font="Abel|700|||||||" header_font_size="40px" header_text_color="#0e5073″]
The Phoenix: Man's Symbol For Rebirth
Many of people have asked me, "Who designed the SoM Coin that each graduating class earns?"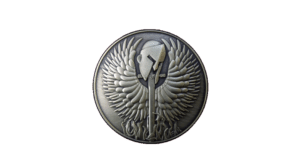 At HQ we have a banner hanging in the back of the Phoenix. The following symbols are in the crest:
Flame

Mettle Forger Symbol

Compass

Spartan helmet

Phoenix
The flame represents life.  We as men and women experience a lot in life.  Many ups and downs.  Being baptized by the flame only makes you stronger.  The difference between a higher standard of man and the rest of the world is that we seek out the fire and are forged by it.
Mettle Forger is actually the nickname of a teammate of mine.  Honestly, I didn't know what Mettle Forger meant until I met Kirk.  Kirk didn't make it home after the event we both completed.  We had both completed a 60-hour plus simulation of Navy SEAL Hell Week and ended up passing away.  I saw a man die living and the impact he had on me the entire weekend will always live on through the SoM.  After getting home and letting everything settle in I looked up what his nickname meant.  And in short, if you think about how a sword gets tempered you must place it in the fire, pull it out, and hammer on it.  You repeat this process until it gets stronger.  The hammer is life and you are the sword.  Kirk embodied this mindset.  I saw it with my own eyes.
The compass is a symbol for true-north. Your purpose.  Your WHY.  And Man is always in pursuit of self-mastery, never yielding to adversity.  The compass is his guide back to his WHY, to his true-north that drives him every day.
A Man is a warrior and the spartan helmet symbolizes this.  Each man on this earth is a warrior.  We are on the warpath every single day and without this helmet we do not possess the warrior mindset.  It is the symbol of strength amidst the chaos.
Last is the Phoenix.  If you do your research, the phoenix stould for re-birth.  As a man we should always seek to be reborn, every-day.  It also symbolizes a right-of-passage and that is what the SoM provides.
When drafting the ideas of the coin that was to be earned Jeff Powell, Class 001 graduate, is the one who drew the entire thing.  From hand.  When he gave the first draft I was speechless.  Not only did it have the edge we needed, but it was authentic to what we were building and that is how the Phoenix was born.  Out of our hearts.
[/et_pb_text][/et_pb_column][/et_pb_row][/et_pb_section]